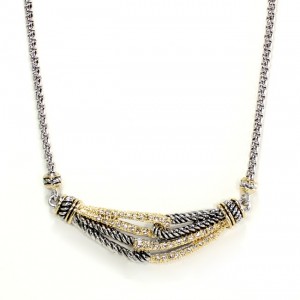 Art Deco Design Necklace Pave Cz N14001
Art Deco Design Necklace Pave Cz in a gold tone and silver tone setting. The Art Deco necklace is scattered with clear cubic zirconia stones on the gold tone segments. Look like a superstar when you wear this accessory. Get prepared to shimmer when you wear this fab accessory. The ideal gift for the ladies with style. We have a good collection of Art Deco necklaces, Art deco rings and Art deco bracelets for wholesale in our online store.
Celebrities across the world often own expensive jewelry collections that are desirable by anyone. Diamond, sapphire and emerald's are key components with the jewelry and help their owners be a little more gorgeous when appearing to the crowds.
Numerous individuals purchase adornments for different reasons. Some of these reasons are: to fulfill individual needs, to give as gifts, to have something to wear for unique events. The reasons may be hundreds.
Jewelry Is timeless. We can't even think about any event without jewelry. Some people wear designer inspired jewelry, some wear fine necklaces and some wear custom jewelry. Any wedding or engagement would be completely different without jewelry. Custom Designed jewelry reflects a person's taste and personality. Designer Diamond jewelry possesses its own charm.
Designer inspired jewelry is available in necklaces, earrings, rings, and bracelets. They are usually manufactured from magnetic metal, titanium, hematite, tungsten, copper, cubic zirconia and semi-precious stones. They can be coupled with designer or custom pieces to create various styles. Most of the jewelry is handmade in order to carefully handle materials and preserve their organic beauty. Most styles are as unique as the type of material themselves. You can choose between distinct shades of greys, silver, gold or chrome. There is a lot from which to choose when it comes to size, color, and material. Designs for bracelets or necklaces can suit women or men, or both.
The chain measures 16′. The art deco is 3″ across and 3/8″ wide, Weight – 2.0 oz.