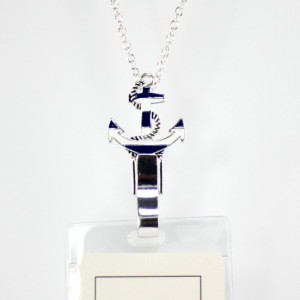 This is a line of jewelry, in addition to their original designs, that capture the eye of both media and jewelry lovers across the globe.  As a direct result of their immense popularity, it has inspired them to make their versions of the jewelry that numerous manage to adore.
For the jewelry wearer who admires one famous designer's use of pave, this designer inspired 'Anchor Lanyard Badge Id Holder Silver Tone' lanyard, provided by Its A lot Alike.com, will most likely become a winner.  It is one of our collections of wholesale neck lanyards, badge holders, id holders, id lanyards, unique fashion lanyards, beaded lanyards. A puffed heart adorned is additionally provided with an extremely reasonable low price, better than our competitors.
If you're looking for wholesale inspired jewelry, the net specialty store also carries several other designs. The wearer sees the surface metal which looks like it's either rose or gold.  Underneath the plating is often a rare metal providing you with both strength and durability.
Because there are a large number of talented designers, you'll find a number of designer inspired jewelry pieces. For  people who simply do not have the cash or prefer not to spend lots of money on one piece of jewelry can feel very special. Even people who can pay for genuine silver and fine gold, these designer inspired jewelry pieces are undoubtedly an option. You will discover inspired jewelry pieces to quench your thirst for the finer things in life.
Whether you are looking for designer inspired jewelry, celebrity inspired designs or perhaps beautiful gold like and cubic zirconia jewelry styles, ItsAlotAlike.com can be your one-stop shop for everything that glitters.
Anchor and nautical jewelry are really popular these days. So, we have an anchor badge holder, id holder lanyard to create a fabulous look for you. The anchor is in a silver tone setting and is blue and white.
The chain is 30″ in addition to a 3″ extender for about 33″. Weight – 2 oz